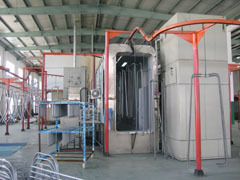 Realever Enterprise Limited is a factory specialized in mold manufacturing and injection molding,there are professional design and development team of 15 people. With digital aids such as CAD, CAE, UG, PROE, etc. There are 35 mold injection machines rang from 58t to 530t,and many other accessory equipments with a dozen of plastic technicians in the injection molding department, who have rich experience and solid technology.

Leisure furnitures are our main self-developed products,the product line covers leisure chairs, tables, stools,kid's furnitures,etc.We also supply OEM service,so if you are planning to develop a new product,please send us drawings and we will support you on the design and produce it out to be a ready to sell products.

Our products are exported to all over the world,we have worked with many well known customers,such as, OFFICE MAX, TARGET, KMART,WAL-MART,etc.We have the corresponding certifications while cooperated with above customers.