Vico Magistretti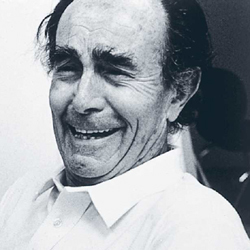 Born in Milan on October 6, 1920, Vico Magistretti graduated from the Politecnico di Milano University with a degree in architecture in 1945 and soon came under the influence of the architect Ernesto Nathan Rogers, whose humanist ideas for the reconstruction of postwar Italy inspired a whole series of intellectuals. At that time Magistretti took part in work on the extraordinary experimental neighbourhood on the edge of Milan known as QT8, where a group of architects and planners were given complete freedom.
Moving into furniture design during the 1950's Magistretti worked for, amongst others: Cassina, Kartell, Fritz Hansen, Artemide and flou.
Twelve of Magistretti's projects are now housed in the permanent design collection of Moma, in New York, including his famous lamps and his one-piece Selene plastic chair. He won numerous awards across the world for his work, including the Gold Medal at the 1951 Trienniale, the Grand Prix at the 1954 Trienniale, two Compasso d'Oro awards (1967 and 1979) as well as the Gold Medal of the Chartered Society of Industrial Artists & Designers in 1986.
He thrived on simplicity and elegance, where the complexities of production were hidden and very few of his ideas went unproduced. From 1980 Magistretti taught at the Royal College of Art in London, becoming an Honorary Fellow in 1983 and a Senior Fellow in 1996.
He died in Milan in 2006.

---